I don't have a LiveText Account! How do I get one?
 If you do not have a LiveText Account, please email Mr. Corey Drake at drakec1@tcnj.edu.
How do I Transfer my Prints to a District?
 Click here 
i
f you need to transfer your prints to a district. Please note that you will not be able to transfer your prints if you were not fingerprinted with "substitute teacher" listed as the job category. Here is the list of
District and County codes
 that you will need to complete the transfer request. It generally takes 3-5 business days for your prints to be transferred. 
You will not receive a notification when they are completed
. After three days, you should check this site to see if the transfer is complete: 
Office of Student Protection Status. 
Once the transfer is complete, download the criminal history/applicant approval employment history form.
This is a picture of the correct document to download and save as a pdf document. Please attach a copy in LiveText.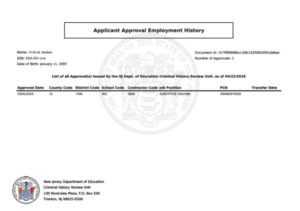 How do I load my documents into LiveText?
 Click the link for step by step instruction on how to post your documents to
LiveText
.
Take your time and
follow the directions exactly as written.
Documents should be loaded as pdf under one blank portfolio. If pdf documents are not properly named and shared they cannot be viewed by the placement officer.
Documents,
not receipts
need to be posted (i.e criminal history form. TB results, Sub Certs, District Applications, Health/Physical Form, Child Abuse).
Click here to view the LiveText Instructional Video 
Click here to view the entire Livetext Guides and Video Library
Remember, that the office may not be able to see the documents that you see. Common errors include:
Forgetting to name your blank portfolio. If you do not see your

name, TCNJ ID document submission in the top left hand corner

 page in red (where it may read documentation), Then your document is not visible to the STEP Office. Click on Document Properties, and name your document. This is the number one error.
Students do not share the document with editor access to STEPLIVETEXT. Once it's shared, it will indicate that you successfully shared this information with the office.
Students make multiple portfolio's, but you only need one. Condense all documents into one portfolio
Students do not name their documents properly (i.e. last name_first name, TB test)
Documents loaded are not pdf and can not be viewed.
Files were placed in File Manager, instead of LiveText Docs and are not viewable by the office.
I do not have a placement yet. May I call districts to inquire about them hosting me?
 No. Please do not contact districts on your own. Each district has very clear policies and procedures that the college must follow in placing students. Circumventing these procedures may endanger the college's relationship with that district.
Where do I go to download a copy of my fingerprints (criminal history) results?
 Approximately two weeks (or 14 days) after you are fingerprinted, you can go to the Criminal History Review Status website to get your results.
https://homeroom5.doe.state.nj.us/chrs18/?app-emp-history
You will need to put in your social security number and your birth date and year
. You can download and save the pdf document. Please attach a copy in
LiveText.
Will I have to be fully vaccinated to complete CPII Fall 2021 and later?
 The College of New Jersey has assured superintendents and principals that all TCNJ students, including student teachers, will be required to follow TCNJ's policy on vaccinations. As stated in the college policy, any student who is not 
vaccinated
 will need to seek a medical or religious exemption. If you have been granted a medical or religious exemption from the vaccine and are participating in or wish to participate in a clinical rotation (e.g., at a hospital) or student teaching assignment at an off-campus site (collectively, a "Field Experience")
you 

must

, in addition to the above requirements,
comply with the requirements for the district (or off-campus site).
Students will have to acknowledge and accept that having an unvaccinated status may limit or even eliminate options for them to complete a field experience.  This may impede or prevent successful completion of a degree program and/or licensure in a particular discipline or profession.
We are not sure how this will impact your ability to enter schools. Districts are still crafting their policies and there is a possibility that you will not be able to complete your requirements because you will not be able to attend practicum.
Students should refer to the official TCNJ Policy for details concerning the COVID Vaccination Requirement: COVID-19 STUDENT VACCINATION SPECIAL REQUIREMENTS
How do I apply for student teaching?
 If you were not able to make the orientation session for your department, try to attend another session. Orientation session dates will be listed on our homepage. You can attend any session, but special instructions by major are provide in specific sessions. See your
Program Coordinators
for those details. If you still aren't able to attend a session or none is being offered,
click here for the 30 minute video.
Effective Immediately: student teachers must also apply in this Qualtrics Survey. The survey will provide us with more accurate information for your placement:
Applications are always being accepted. However, applications that are received after priority deadlines can result in a late placement.
You should submit your online application and documentation (Resume, Transcript, TB results, Fingerprinting and Criminal Background Check, sub cert if you have one) in LiveText at the same time.
(Resume, Transcript, TB results, Fingerprinting and Criminal Background Check, sub cert (if you have one) in LiveText at the same time you submit to your department.
If you still have questions after reviewing the PowerPoint, handout and these FAQs, you can send an email to the STEP Office
Why can I not submit the STEP application?
 The current STEP database is antiquated and asks for information you may not yet know. If your major is not listed, you may need to select one that most closely matches your major.
You will also need to provide answers for every placement location, even if you didn't complete that particular placement. You will not be able to submit your application if you do not
. If you have not completed a practicum course yet, please just list any school in those places. We use the STEP database to generate your placement request letter, assign supervisors, and notify your faculty of the district, school and teacher you will be placed with. We do not use this particular information from the system for your placement.
Applying in the STEP database will not trigger the placement officer to find you a placement. Applying in the Qualtrics Application will trigger the office that you are in need of a placement in a particular semester. You will be able to provide more accurate information in the Qualtrics Survey (Forms for Students or in FAQ#7). When attempting to place you, we work from the information listed in this application and your resume. Use your official TCNJ email address on your resume and not your personal email for this process.
My residency during student teaching changed from what I originally put on my application.
What do I do?
 Due to life circumstances, a student's residency during student teaching may change from what they put on their application. If you move please tell us about the change as soon as you can. We depend on the kindness of teachers and district to host you. It is not ideal to remove a student from placement after they have been placed. This can jeopardize our relationship with the district and future placements by removing you after a placement has been made.
I have special circumstances that need to be considered.
 If you have a special circumstance that need to be taken under consideration, please let us know on your application, or as soon as feasibly possible. Some students have health concerns, financial hardship, clubs/organizations responsibilities or transportation needs that must be considered before a placement. Students should make a note on the application that is submitted to their
STEP Program Coordinators
or
email the STEP Office
with any special circumstances BEFORE the placement process begins. We have a greater opportunity to make this accommodation work when notified in advance. If you have a very specific hardship, you will need to fill out this
Hardship Waiver
and send to your program coordinator for approval.
My GPA is under 3.00. Can I still student teach?
 If your GPA is between 2.750 and 2.999, you can participate in student teaching. You will need to get permission from your academic department and sign a
GPA Waiver Form
stating that you understand that you cannot and will not be recommended for teacher certification by TCNJ until you raise your GPA to the state minimum of 3.00. Students with GPA under 2.750 will not be allowed to student teach. However, some districts will not accept students with a GPA below a 3.0 as student teachers. We will find you a placement, but it may take longer.
I need a Universal Fingerprint Form and don't know where to find that form. Can you help me?
 You have to complete a criminal background check form with the State of New Jersey to get the Universal Fingerprinting Form. It will be emailed to you after completing your criminal background application. You can go to the
Clearances Required page
of our website and follow the directions under Criminal Background and Fingerprinting. You can also see step by step instructions on the TCNJ Certification Office webpage under
Clearances
.
I thought we would be placed 35 miles from our home address, not 35 miles from TCNJ?
 You will be placed within 35 miles of TCNJ. All students must be accessible to the field supervisors who travel to their site to evaluate them.  All students must be accessible to the field supervisors who must travel to their site to evaluate them. If you need to live at home, you are encouraged to meet with your
Program Coordinators
 to see if they can provide a supervisor near your home.
 If they are able to accommodate your request, you will need to submit the hardship waiver forms (available
here
)  If your program coordinator is not able to find a supervisor close to your home, you will have to be placed in a district that may be closer to TCNJ and further from your home.
[
Who do I talk to for questions concerning student teaching and certification?
 There are many people here to help answer your questions.
Please use this guide to help decide which office to contact regarding your question.
1. If this is a question about your substitute certificate, fingerprinting or criminal background, visit their website or contact the Certification Office for clarity at certification@tcnj.edu
2. Questions about the student teaching process, requirements, or questions on student teaching timeline or placement for Clinical Practice II (full time student teaching) questions, view this website, the handbook, or send an email to STEP@tcnj.edu  .
3. If your question concerns stipend payments to cooperating teachers, contact the main office at 609-771-2408, STEP@tcnj.edu or Ms. Carla Woodward at Varlese@tcnj.edu.
4. Questions on the academic component of your practicum experiences and practices should be directed to your Program Coordinators
Please note: due to FERPA's confidentiality regulations, college administrators are not allowed to speak with parents about student matters if the student is over 18 years of age.
Why haven't I heard anything about my placement?
 After student teacher placement requests are sent to school districts, we have to wait for a response. Some districts are able to place students quicker than others. At the end of every school year, teachers and principals may be moved to different schools. In those cases, we have to wait for approvals until the principals and teachers know where they will be placed the following year. This means that some approvals will not come until August. TCNJ starts in August, but a large majority of schools start in September. Be patient with the process, and do your part to get and post all your clearance documents.
Additionally, most boards of education only meet once a month. Therefore, once a school accepts your placement, it may take several more weeks for board approval. Some districts will not put you up for approval with out all documentation. If you miss the deadline, you are likely to have to wait a month for that approval.
To follow the districts where the placement officer is sending you, go into the STEP database and under my applications you will see where you are pending.  It will read pending until you are placed. If we are unable to send you to the first district, we will make a note and continue to forward a request to other districts. We have a 100% placement rate.
Will I be able to work in a variety of diverse settings?
 Our goal is to provide students with a variety of placements so that they can experience various grade levels and schools and learn from a number of in-service teachers. We believe that teachers trained in working with students of diverse backgrounds including, race, gender, ability, socioeconomic status, are better equipped to teach in our increasingly diverse society. Students in TCNJ Teacher Education programs will complete one of their clinical placements (CP1 or CP2) in an urban district and one in a suburban/rural district.
How often do I need to get a TB test?
 It depends on the district. Some districts require you to submit negative TB results no older than one year, while others may require them to be no older than 3 or 6 months. However, we prefer to err on the safe side and ask students to get their TB test for CP2 placement in April or May for a Fall placement and September or October for a Spring placement. The Health Center at TCNJ holds a TB clinic every semester and only charge students $10.
How do I apply for a Substitute Certificate? 
I was notified that I have a placement. What should I do next?
 When you receive an email notifying you that a placement has been found for you, read the email thoroughly for your next steps. In some cases, the district may have accepted your placement but has not identified a cooperating teacher. Many districts have additional requirements, such as interviews or district specific forms that need to be completed. Some districts require all of your paperwork to be completed BEFORE your name is placed on the board agenda for final approval. Other districts will board approve you, but you cannot begin your placement until all forms have been received and approved.
DO NOT wait until the last minute to do your part, as it may significantly delay your start date. If you start your placement late, you may be required to extend it to make up for the missed time. If your placement starts significantly late because you failed to submit the proper paperwork, you may need to withdraw from Clinical II and complete it the next semester. It is important that you take the initiative to do your part without expecting the office to send you reminder emails. Meeting deadlines and responding promptly to emails is an important part of your professional responsibilities during Clinical II and in your career.
Some things to remember and consider once a placement is found
Read the email thoroughly, sometimes twice to make sure you understand your next steps. If additional forms or an interview is requested, you may need to contact the district, or the district rep will reach out to you. Be prepared to answer your phone and check your email on a regular basis. Refer to the FAQ page for directions to transfer your fingerprints, or the Certification Office website to obtain a sub cert, which ideally should be obtained at the beginning of your Clinical I course. 

TB tests should be no older than 1 year old from the starting month of Clinical II. Check the dates of the TB test that you posted in Livetext and post an updated version if needed. 

Certain districts require a TB no older than 6 months from the start of your placement. Again, check dates and respond accordingly.

District Board meetings are usually once a month. Completed paperwork is usually due 2-3 weeks in advance of the meeting to get you on the agenda. If you miss the deadline for a board meeting, it could delay your start date for a month.

Contact your cooperating teacher regarding your start date, and to arrange a visit to the school prior to your first day. Some TCNJ academic programs start the semester with a few days of orientation on campus before Clinical II students begin their placements. Please be sure to clearly communicate with your cooperating teacher when you will begin. For fall placements, remember that teachers are on summer vacation and may not be checking their email regularly. Principals, however, work 12 months. If you don't get an answer from your cooperating teacher, check to make sure you have the correct email address and email them again. If you do not receive a reply to your second email, follow up with a call, and/or contact the principal and copy our office email (step@tcnj.edu). 

Refer to our website for information to make sure you are up to date with any changes: FAQ's, Overview of Placement Process, and Forms for Students. Refer your teachers to the site for information as well. 

Remind your teachers that they have to complete 1) a stipend form to be paid in the same semester of service, and 2) a midterm and/or a final performance evaluation through Livetext. Sometimes the teacher forgets, or they do not receive our emails. Please remind them that any information they need will be posted on our website.